In this article we will present WHMCS and MOR integration.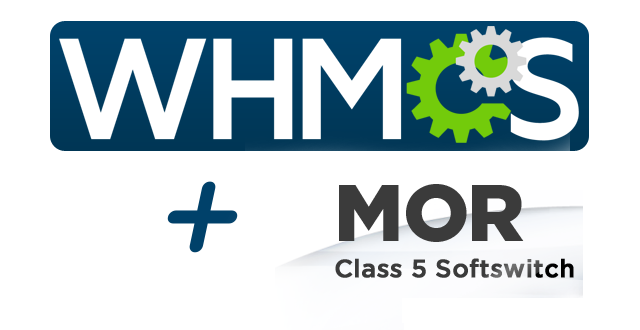 ModulesGarden, a team of professional developers who deal with progressive custom development and specialize in improving and extending WHMCS functionalities as to fit their customers personal needs, has made a step towards one other system. They have created an integration between the so well known to them WHMCS and Softswitch. As a consequence, a great tool called MOR Softswitch For WHMCS has come to exist.
What is that exactly? If you are one of our VoIP providers and use our MOR Softswitch product to bill and route the calls and WHMCS is your main billing system, then you might be really interested in such a solution. The module is a perfect tool for MOR Softswitch provisioning – anybody who deals with billing and routing and wishes to shorten the process now may move some of the options to their WHMCS everyday billing system.
We have seen and tested this tool and must admit its really cool. As a provider you can directly in your admin area create, terminate or upgrade accounts. What is more, you may define billing type per product, prepaid or postpaid, and set up call and credit limits for clients who decide to purchase such preconfigured sets. It seems really time saving and allows configuration of numerous products, among which your clients will definitely find a perfect one for them.
In such a scenario, everyone benefits. ModulesGarden has provided us with a bridge between WHMCS system and MOR Softswitch. Your clients can now mange their credits, preview balance and enable auto-charging directly in your client area.
Why do we talk about that? We only want our clients to be even more satisfied with our product. If other team can make it finer, then we are for it!
Not to be groundless, here is an opinion of our regular customer who already decided to check their product:
"As a business owner with several years of practice now I can say I have huge experience with VoIP field now.
I decided to go for MOR services mainly because of the simplicity it offers to the customers. What attracted my attention was, first of all, a clear roadmap, which when I got familiar with, clearly showed the direction of development and which fit my future needs. The stability of everyday usage convinced me to stay with MOR for longer.
We always used WHMCS for billing, mainly due to the way taxes and charges are handled. Not a lot of billing systems can manage taxes required in Australia, so we had to integrate the two to finally use only one billing system. Once I read good references on WHMCS forum, I picked ModulesGarden to work with, which turned out to be a great choice in the end.
Guys in ModulesGarden created for me a tool which integrated MOR with our WHMCS. The main benefits we cared for are exactly as expected. Now, we don't have to spend so much time on work due to the process automation and faster provisioning. Auto-recharge and post-paid customers are all finally automated.
Basing on the feedback that we received from our clients, we can say it's really fine and usable. I can truly recommend MOR For WHMCS module as it quickly proved to be a great tool improving my everyday work, and it is easy to operate. I am convinced it will help every MOR customer who uses WHMCS system for billing."
Frank – WorldDialPoint
Features List: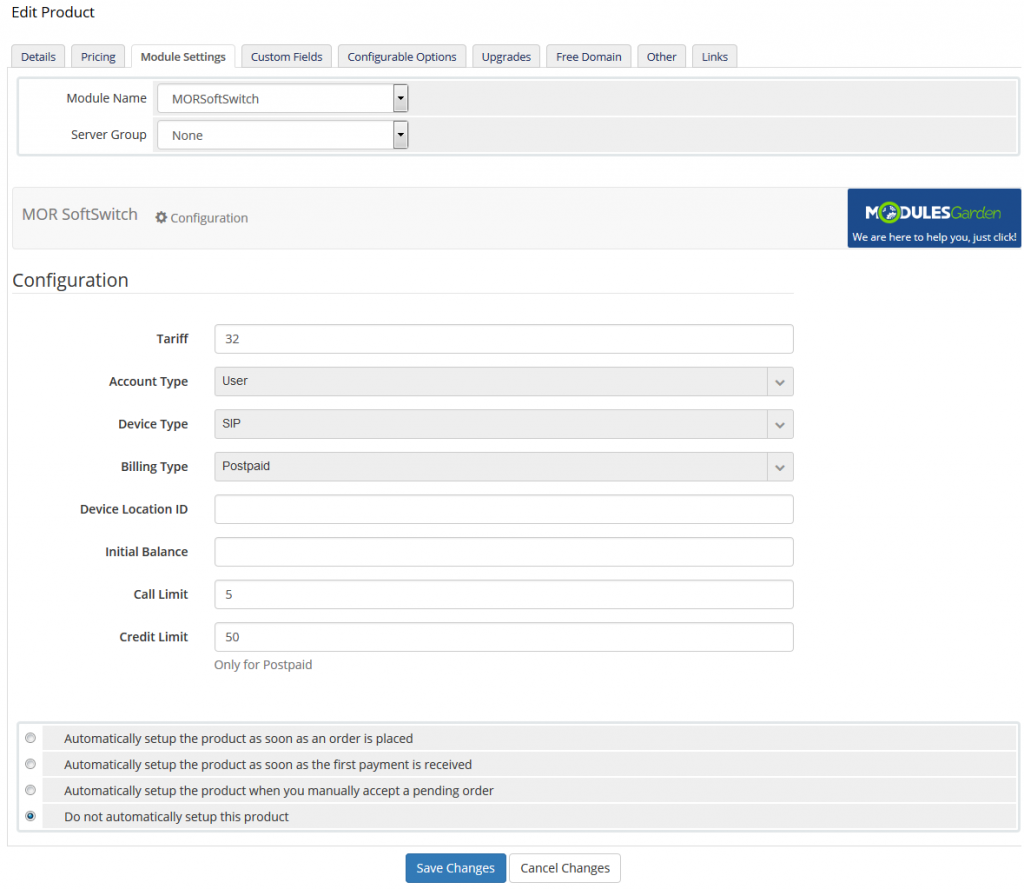 MOR Softswitch Admin Area Features:
– Create/Terminate User Account
– Suspend/Unsuspend User Account
– Upgrade User Tariff
– Log In As User
– View User Account Details
– Define Product:
– Tariff
– Account Type – User or Reseller
– Billing Type – Prepaid or Postpaid
– Device Location ID
– Initial Balance
– Call Limit
– Default Credit Limit – Postpaid Only
– Generate Required Custom Fields Automatically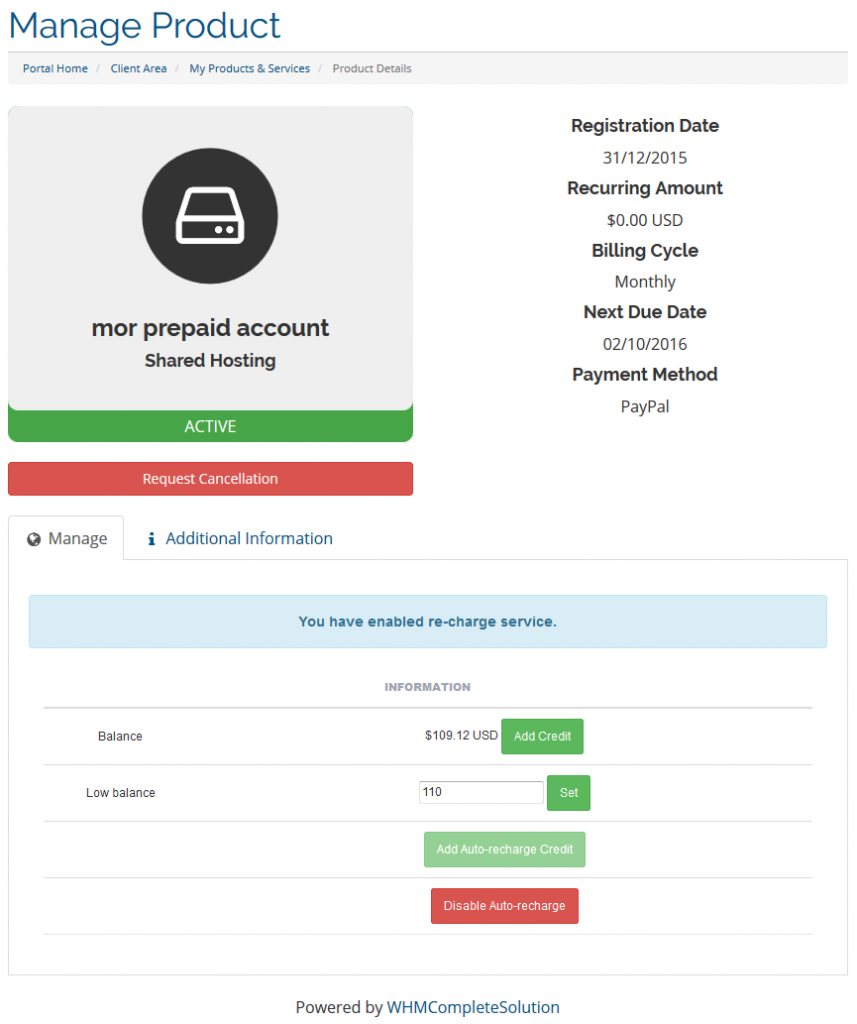 MOR Softswitch Client Area Features:
– Postpaid Billing:
– Define Credit Limit – Upper Limit Available During Single Billing Cycle
– Prepaid Billing:
– View Credit Balance
– Add Credits Manually – Proceed To One Time `MORPrepaid` Service Order
– Define Low Balance
– Enable Auto-Recharge – Usage Invoice Is Generated When `Low Balance` Is Reached
– Disable Auto-Recharge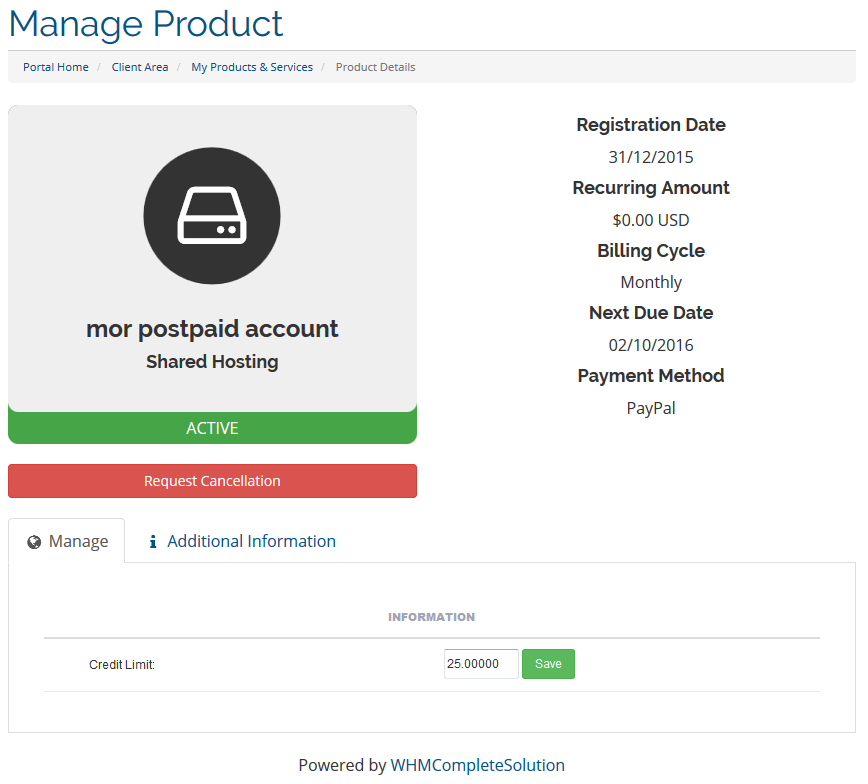 MOR Prepaid Admin Area Features:
– Add Credits To User MORSoftswitch Account
– Define For Product:
– Credit Amount
– Auto-Recharge – Product Is Renewed Automatically When Low Balance Is Reached
– Default Low Balance
– Supports Static & Dynamic Configuration Of Credit Amount
Automation (MOR Billing) Features:
– Automated Postpaid Billing Type
– Differentiate Invoice Calculation Between User and Reseller Accounts
– Merge Last Unpaid Invoice With New Invoice
– Suspend Service If Due Date Has Passed And Is Not Excluded From Auto-Suspension
General Info:
– Multi-Language Support
– Supports WHMCS Template Portal
– Supports WHMCS V5
Contacts for integration:
ModulesGarden
Inquiries: contact@modulesgarden.com
Website: http://www.modulesgarden.com