How to Start a VoIP Business: A Six-Stage Guide to Becoming a VoIP Service Provider is the first book which explains in plain English how to become a VoIP provider and start different services, based on a VoIP technology.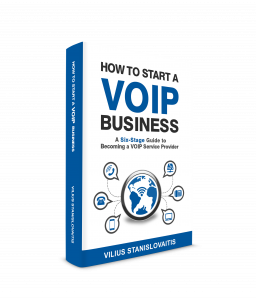 This simple six-stage guide will give you the know-how of launching services, such as:
Mobile VoIP
Callback
Calling cards
Call shops
Residential VoIP
Virtual PBX
SIP trunking
Wholesale transit
Call origination
Call termination
By using this step-by-step guide you will learn:
What VoIP (IP telephony) is and how it differs from traditional telecommunication services
How VoIP is regulated in different countries
What VoIP-based business models and services you can launch
How to choose which service has the high potential in your market
How to identify your target audience for VoIP service
How to choose between VoIP reseller and VoIP provider
What is a softswitch and why it is considered as a key VoIP platform
How to select infrastructure for VoIP business
How to find VoIP termination provider
How to find other partners and suppliers for VoIP operations
How to properly launch VoIP services
How to adjust and grow your VoIP business
To make the complex simple, the book is divided into six informative, but easily readable chapters. The labels of sections are defined clearly and can be skipped by those who are already familiar with the material.
Understanding telephony. It is an introduction for those who are new in telephony. This part explains the evolution of telecommunication industry and how it has changed during decades. You'll also understand the benefits and value drivers of VoIP and how it differs from the traditional telephony.
Choosing a VoIP service. There are many services that can be provided by using VoIP. This part reviews different VoIP-based business models and services.
Deciding on a business model. There are two levels in VoIP that you can choose from: reseller and service provider. This part will help you to understand your strengths and choose the right business model. Besides this, you will learn how to define your target audience.
Softswitch selection. Softswitch is the key platform which connects calls between clients and providers. This part explains how to build a solid infrastructure and what components are needed to run different types of VoIP services. The content is not too technical, all terminologies are explained well, so it will be easily understandable by a regular reader.
Finding partners and suppliers. To run VoIP business, you'll need to select multiple partners that will provide you different resources. This chapter explains, what type of partners and suppliers you'll need in VoIP business.
Launching your service. It explains how to organize sales and marketing, how to define your ideal client and how to begin business with the minimal resources. You will also learn the most common operations that are handled by VoIP providers daily. In the end, you'll find some extra suggestions that will help you to adjust and grow your business.
You can download a free chapter from this book here.
You can buy the full book here.