An interconnection form is used at the initial step when companies enter into a business relationship and are becoming interconnected. Companies need to connect their equipment to pass a call from one party to another.
An interconnection form looks like this: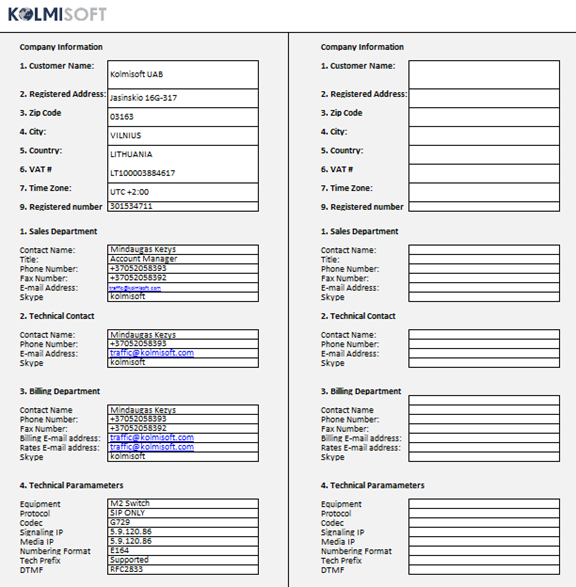 Usually, one company takes the initiative and sends its interconnection from to another company. Sometimes both of them send their interconnection forms to each other.
A form can be sent by email in various formats, usually XLSX, DOCX or PDF with an option to enter the required information.
Sometimes companies prepare their forms online and send out a link for filling them in.
The form is divided into two parts – for the same details for each company.
This is an example of a message sent along with a form:
"Complete this VoIP Interconnect Specification form covering all areas. Providing this information in a timely manner will speed up the testing process."
The style and presentation of interconnection forms differ from company to company, but all of them request almost the same information.
We can divide the form into 3 main parts:
Company info
Contacts
Technical info
The company info is self-explanatory. It's just the usual information identifying the company.
The contacts are split by department:
Sales Department – the contact to talk to about possible business deals, rate negotiations, and payment terms
Technical Contacts – the person to contact regarding problems, discrepancies in the call detail records (CDRs) and similar technical issues
Billing Department – the person to contact about payments, invoices, transfers and possible problems related to money
The technical info section describes equipment and technical details for interconnection.
| | |
| --- | --- |
| You can download an example form and adjust it for your company: here | |
Make sure to fill the form out completely and thus avoid possible delays in establishing an interconnection and growing your business!