Introduction
We, at Kolmisoft, are proud to have developed the SIP trunking functionality for the M4 Class 4 Softswitch, which includes a range of services to help businesses optimize their communication processes. Our solution supports DIDs, both flat-rate service and custom services, Subscriptions, and Charge Plans providing businesses with the flexibility they need to tailor their communication infrastructure to their unique needs.
DID (Direct Inward Dialing) support allows businesses to assign a unique phone number to each employee, department, or location within their organization. This means that callers can reach the desired party directly without having to go through a receptionist or operator.
A flat-rate service is a popular option for businesses that make a large volume of calls. With this service, businesses can pay a fixed monthly fee for unlimited calling to select destinations. This is an ideal solution for companies with high call volume and predictable calling patterns.
In addition to flat-rate service, the SIP trunking functionality also supports custom services. This allows businesses to tailor their communication infrastructure to their unique needs. For example, a company may require a specific set of features or call routing rules to support its business model. With custom services, businesses can create a bespoke communication system that meets their requirements.
Subscriptions enable businesses to purchase and manage their SIP trunks through a web-based portal, making it easy to scale up or down as needed. This allows businesses to adjust their communication infrastructure to match their evolving needs, without having to invest in expensive hardware or infrastructure.
---
General Structure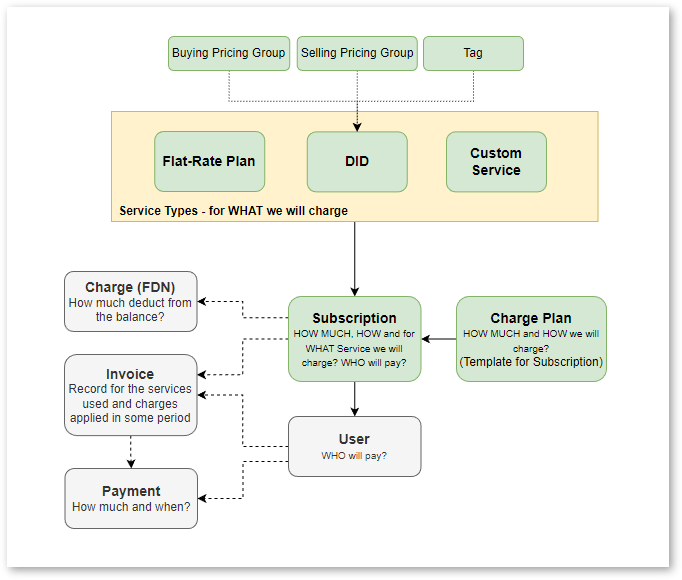 ---
Services
A Service is a product that can be sold to the client that is charged every month, day, or just one time.
Types of Services supported by M4:
Voice Calls
DIDs
Flat-Rates
Custom Services
---
DIDs
DID is an external number to have incoming calls to your VoIP network reach a particular device.
More info about DIDs.
---
Flat-Rates
Flat-Rate is a service type that allows a Client to dial a number of minutes to certain Destinations for a fixed amount.
After the user has used all his flat-rate minutes, all additional minutes could be charged at the normal rate.
More info about Flat-Rates.
---
Custom Services
This type of service allows the creation of any type of service, such as equipment rentals, consulting fees, maintenance jobs, etc.
More info about Custom Services.
---
Subscriptions / Charge Plans
Charge Plan is a set of options that determines HOW MUCH and HOW we will charge for some service. Charge Plan is a template for Subscriptions.
Subscription describes HOW MUCH, HOW (in what terms), for WHAT Service we will charge? And WHO will pay?
More info about Subscriptions and Charge Plans.
---
Conclusion
The SIP trunking functionality developed by Kolmisoft for the M4 Class 4 Softswitch is a powerful tool for businesses looking to optimize their voice communication infrastructure. With its range of services, including DID support, Flat Rates, subscriptions, and custom services, our solution provides businesses with the flexibility they need to tailor their communication infrastructure to their unique needs.
If you're interested in testing out this newly developed functionality, we encourage you to contact us today. Our team of experts will be happy to provide you with a demonstration of the SIP trunking solution, answer any questions you may have, and help you determine if it's the right fit for your business.
At Kolmisoft, we are committed to providing our customers with cutting-edge solutions that meet their needs. So don't hesitate, to contact us today and see for yourself how our solution can help you optimize your communication processes and reduce costs.
---