Quick update about the work we did in 2021 April.
This month we focused our efforts on the internal changes to the system's architecture and larger work which will be presented in other updates.
[MOR] Privacy ID with Hide CallerID
PrivacyID header now is added when Hide CallerID functionality is activate.
[MOR/M4] Failed Tariff Import handling improved
When Automatic Tariff Import fails for some reason, it is retried now up to 3 times. After that it is considered Failed and process can proceed with other related Tariff imports without stopping the queue.
[M4] Quick Calls Search buttons for User
Quality of life improvement: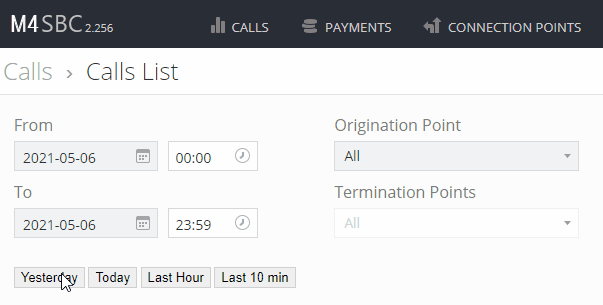 [M4] New Email variables for Rate Notification
Added: <%= user_currency %> and <%= rate_notification_tariff_name %>
[M4] Radius process control reworked with systemd
Long standing Technical Debt solved which allows more robust control of the radiusd process.
Apart from this, we closed the other 23 development tickets. These were bugs, small issues, internal improvements, and some developments to be revealed in the future.
NOTE: If you want to view the picture in full size, press Right Mouse Button and select 'Open image in new tab'.