What Is a Softswitch?
A Softswitch is a software-based device in a VoIP network for managing voice traffic and routing calls within the network. Class 4 switches route calls between call suppliers while Class 5 switches connect suppliers with real clients (or end users), who actually make and receive calls. At Kolmisoft, we provide both Class 4 and Class 5 Softswitches (see how these softswitches compare).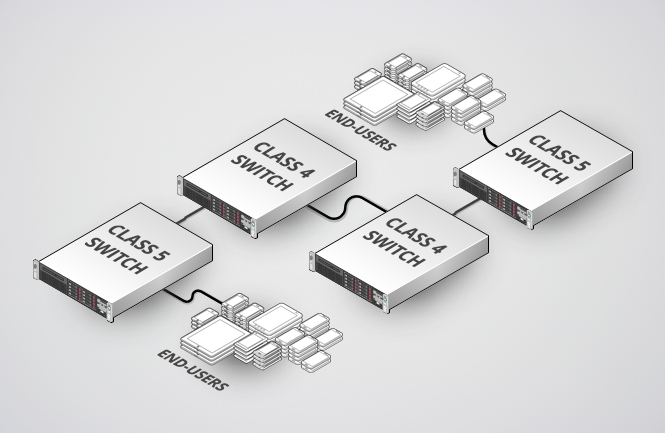 What Is a Class 4 Softswitch?
A Class 4 Softswitch routes large volumes of usually long-distance VoIP calls. For businesses that want to interconnect their VoIP servers, a Class 4 Softswitch is used to relay VoIP traffic and services over multiple IP networks.
Important characteristics of Class 4 Softswitches are protocol support and conversion, transcoding, calls per second rate, an average time of one-call routing and the number of concurrent calls. They provide intelligent call routing, which reduces congestion, latency, and costs while improving the quality of VoIP calls. They have several security features.
Many Class 4 Softswitches also include a billing interface that provides call data records. They can filter information by client, date or other parameters to generate reports of incoming and outgoing calls, unauthorized calls, traffic volume, and call routing.
What Is a Class 5 Softswitch?
For an end user, a Class 5 Softswitch connects phones and other devices to each other. This type of Softswitch routes calls to the correct IP address, SIP address or DID number. They are used for both local and long-distance telephony. Class 5 Softswitches provide additional services for end users and corporate clients such as IP PBX features, call center services, calling card platforms, authorization, QoS and business groups.
A Class 5 Softswitch has features required by end users like auto attendant, call forwarding, call transfer, caller ID, call waiting, e-911 and video conferencing support. VoIP providers use Class 5 Softswitches to record the length of calls so that they can bill customers automatically. Softswitches have interactive voice response menus (IVR) and several types of authorization. For example, SIP authorization can be granted using an IP number and prefix, a number, a PIN or a login and password.
Direct Comparison
| | | |
| --- | --- | --- |
| | Class 4 Softswitch | Class 5 Softswitch |
| Connects | Suppliers | Suppliers and end users |
| Capacity | Can serve a large number of calls | Can only serve a small number of calls |
| Feature count | Few features | Many features |
What about Class 1, 2 and 3 Softswitches?
Softswitches in Classes 1 to 3 are for much larger call amounts. Class 1 Softswitches are used for international gateways while Classes 2 and 3 are used to connect cities, towns, and states.