We watched a recent webinar from the Carrier Community and Telin, and have decided to tell you about what we learned from it.
The topic covered was "Wholesale Industry in the Digital Age. Innovating legacy business with connectivity marketplace".
Here are the participants.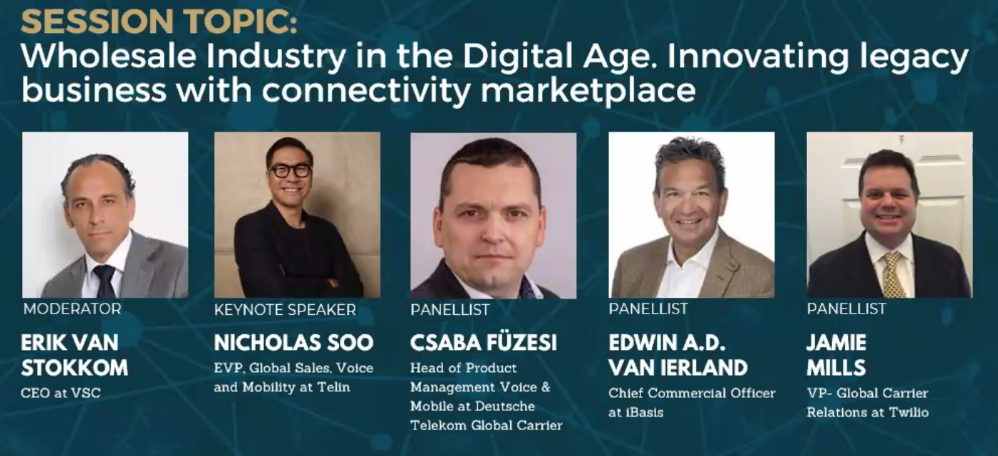 The purpose of the webinar was to push Telin's new initiative and to introduce one more carrier exchange: Neutrafix. Everything is OK with the marketing here, and there is nothing wrong with a sponsor presenting its product and trying to win some recognition.
But we wonder: how successful could this idea be? During our 15 years in this business we have seen several similar attempts to create a platform where carriers can interconnect. All of them failed. We will not be the judges of why they failed, but it will be interesting to see what happens with this initiative.
Apart from the marketing, the most interesting part for us was what problems the big guys see in the industry. Here is their list of the problems that carriers are fighting these days.
Financial problems
Declining profitability
Declining margins
Bad debts
Fraudulent traffic
Cash flow.
Operational problems
Manual operations and processes
Aging systems and platforms
Protecting and monetizing the network.
Legacy business problems
Continue or go bust?
Consolidation and outsourcing
Operator digital DNA (or the absence of it)
Addressing a fragmented market.
As a solution, Telin proposes its interconnection platform. But looking at it from our viewpoint, working only with small carriers, we see the situation a little bit differently.
We constantly hear that the market is down, and that nothing is like it was in the "golden age," about 20 years ago, when global monopolies were broken and profit margins were 300–500%. This is a standard complaint. Sorrowful market veterans recall when they were able to hire live rock-star bands in the ITW, and were drowning in money. As times changed, this never-ending regret is so strong that very often it seems that the end of the world is near.
From our perspective, "at the bottom" with small carriers, we see carriers come and go. Some quickly go out of business, singing the familiar song that "The market is dead." At the same time we see other carriers grow so fast that they outgrow our switches and move on to the next level.
In our opinion, the main cause in each case is the person behind the wheel. This is not about "the market" but about the people in this market.
Back to the webinar. One interesting point was how the COVID-19 pandemic has changed the market, accelerating the use of video conferencing and the acceptance of remote working. How to use this for our gain remains a mystery.
Some ideas about the future were considered (i.e., "What's next?").
5G
Cloud
API
M2M (machine to machine)
Blockchain.
Somehow "we" should ride these technologies and make new business models, in order to profit.
As history shows, it is the small new startups that are best suited to monetize new technologies, find new niches, and change the market.
As for the veterans, the same mantras apply: know your customers, trust is important, optimize processes, adapt to a mobile virtual environment, and so on.
For anybody interested, here is a link for more webinars from Carrier Community.